Sandy City's Newest Storage Facility - NOW OPEN
Sandy City, UT Self Storage is committed to providing you with the best storage solutions by offering state-of-the-art security, professional and friendly management, heated and cooled storage units, convenient loading areas all in the cleanest and greenest environment. Serving residents and business with their self-storage needs in Sandy, Cottonwood Heights, Draper, South Jordan and Midvale.
Clean, Safe & Secure
Self Storage Sandy, UT
Our Storage Units are located in the heart of Sandy City seconds from Interstate 15 and 9000 south. Having a central location makes it the most easily accessed facility from almost any community near Sandy City. We offer a wide range of storage units to meet all your needs.
Convenient Access
Self Storage in Sandy, UT is located in the heart of Sandy City on the west side of 700 East and 2 blocks north of 9000 South. Conveniently located on the east bench so you can always get to your items easily.
On-site Management
Our professional, on-site management team are Sandy locals and are always ready to assist you with your storage needs. Sandy, UT self storage offers a wider variety of sizes and types of storage units, so that we can better meet your unique needs.
Heated & Cooled Units Sandy, UT
Climate-controlled storage units are air-conditioned in the summer and heated in the winter to prevent damage caused by prolonged exposure to fluctuations in temperature and provides added protection from dust, keeping your stored items cleaner.
State-of-the-Art Security Self Storage Sandy, UT
Equipped with 64 high-quality 4K video cameras, electronic access controlled doors and key pad access security units. Outside units are equipped with individual alarms and electronic over-locks. Each unit is outfitted with a cylinder lock system – most secure in the industry.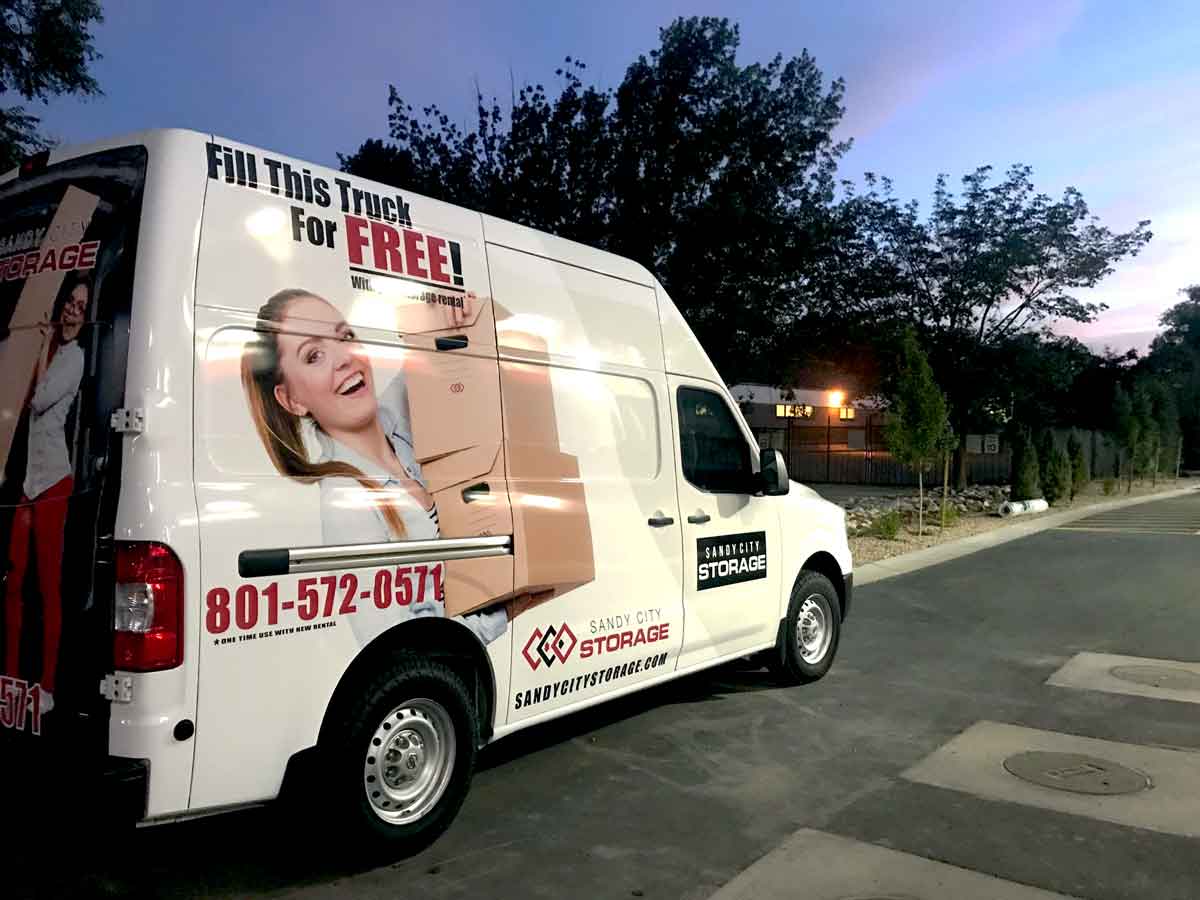 With your storage unit rental in Sandy, UT
Use Our High Box Van for Free!*
Eliminate the hassle and cost of renting a moving truck! Rent any size storage unit and you'll get to use our brand-new easy-to-drive 12' Nissan High Top van for a day. Most unit sizes require just one trip, but you can use it all day for your larger loads. Our van is easy to load and drive and is equipped with AC/heat.
Make your reservation today because it is booked on a first come, first serve basis. We just need your driver's license, proof of auto insurance, and a credit card on file to get your move started right.
*For one day with a new storage rental
Make a reservation