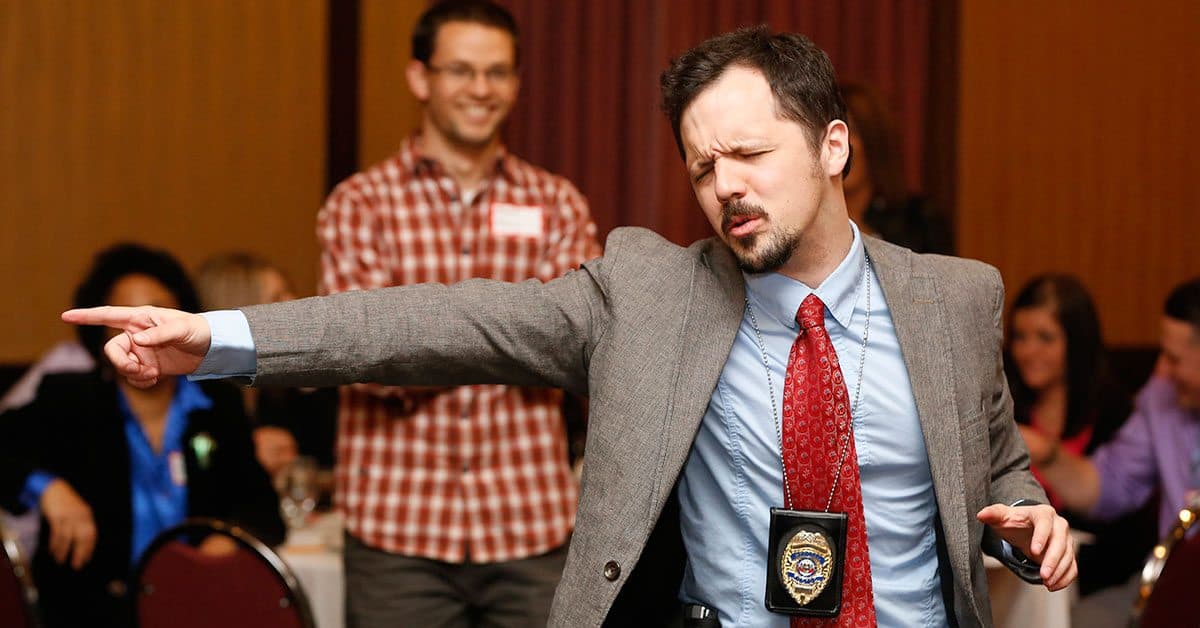 What is more fun than an interactive murder mystery comedy dinner show? Solve a hilarious murder case while you feast on a fantastic four-course plated dinner.  Just beware.  The killer is hiding somewhere in the room, and you may find yourself as a Prime Suspect.
The Dinner Detective Murder Mystery Dinner Show performs on Saturday nights, they also offer private shows that are customized to your group with roles for your group members to play. You can reserve your plate for a one-of-a-kind public or private event that your guests will talk about for months.
What makes The Dinner Detective Murder Mystery Show Different? They hide non-costumed actors in the audience that are pretending to be regular guests.  This results in a much more social and interactive evening than with other shows; you will find yourself engaged and involved to a level you never thought possible.  The shows are set during the present day and take place in real time.  Over the course of the night, costumed Detectives will uncover clues, interrogate audience members that may or may not be part of the show, and help everyone get closer to solving the mystery. The audience member that gives the best correct answer of "whodunit?" before the killer is revealed will walk away with a stellar Prize Package.
Your ticket includes our signature murder mystery show with a Prize Package for the Top Sleuth of the night, as well as a fantastic dinner with individual choice of entree and waitstaff gratuity included.
Shows are geared toward adults and carry a PG-13 rating. Some mild content, loud noises, and adult humor will be present. Children ages 15+ with adult supervision are permitted.
Call or Email today to reserve your plate or visit them at their Website or on Facebook for tickets and showtimes.