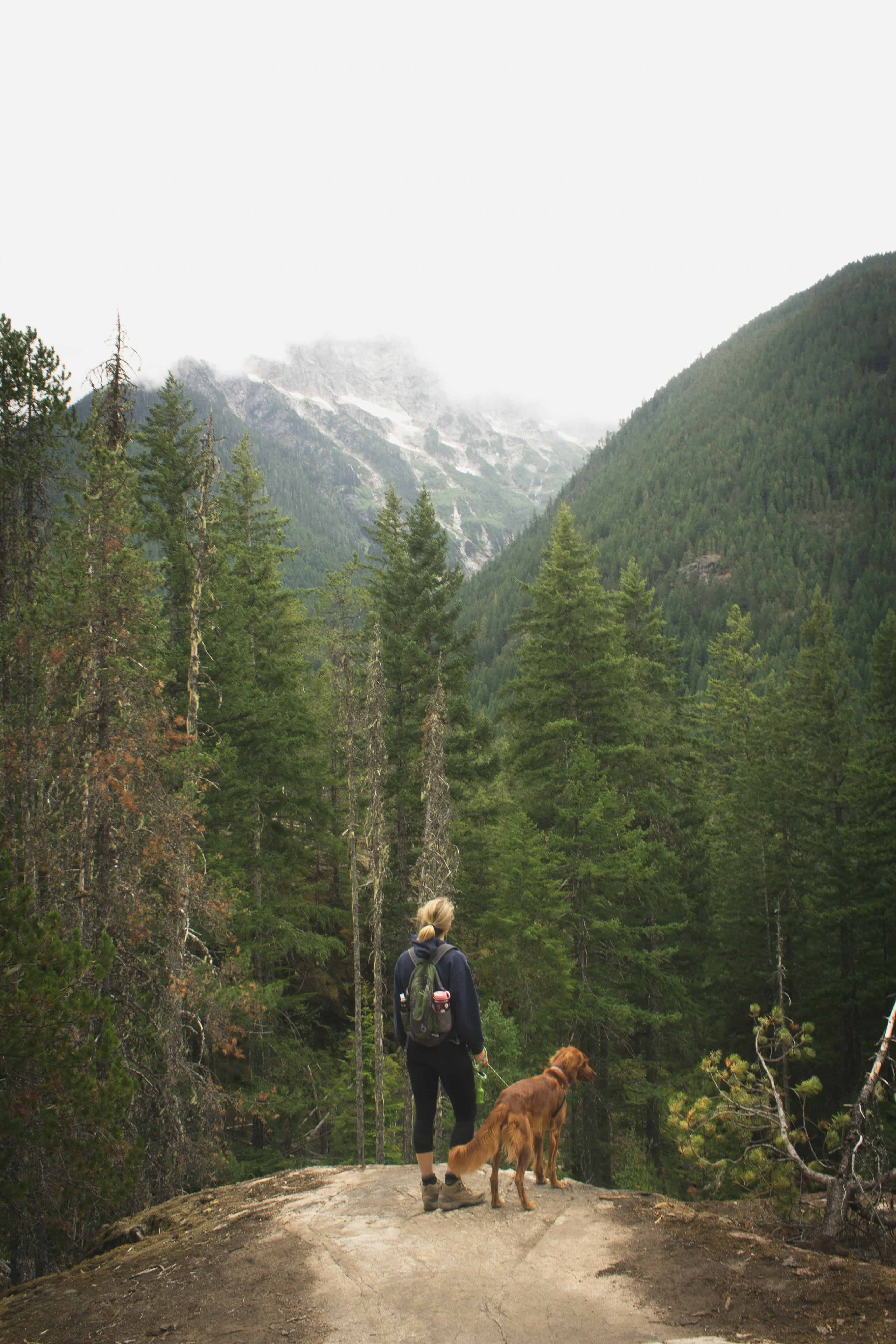 Utah is a great place to explore the great outdoors with your canine companion. Many trails have designated off-leash days (usually odd days), and there's a variety of geographical wonders to take in around the state.
I've compiled a list of some of the best dog-friendly hikes in Utah, and I'd love to hear all about your favorite places, too.
Remember to keep your dog within voice and sight distance at all times, and be sure to pack waste removal bags, dog treats, and a packable water bowl.
1. Bloods Lake and Lake Lachkawaxen: Park City
Heaven for water-loving dogs in Salt Lake City and Park City, Bloods Lake and Lake Lachkawaxen are short, accessible trails on the east side of Guardsman Pass on the backside of Big Cottonwood Canyon. The two lakes offer cool water for swimming and playing, and the 3 mile round-trip hike is perfect for days when you just want to chill out in the mountains. Dogs can be off leash here, so they can run and romp to their heart's desire. This trail is on the backside of Big Cottonwood Canyon, where dogs aren't allowed, so keep your dog in the car until you get to the trailhead on the backside of Big Cottonwood canyon.
2. Bowman Fork trail Millcreek Canyon: Salt Lake City
Leave the city behind for the day and head into Millcreek Canyon for a nice streamside hike with Fido. You'll find the Bowman Fork trail 4 miles into the canyon, and you'll love it for its great views, wildflowers and variable terrain. Your dog will love the stream and shade. The out-and-back hike is a total of 8.6 miles. Dogs may be off-leash on odd days.
3. Negro Bill Canyon to Morning Glory Bridge: Moab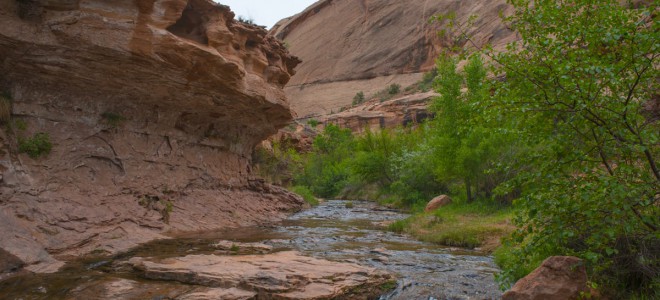 While the name might be cringe inducing (Negro Bill Canyon was named after a black prospector and rancher named William Granstaff), the hike is positively lovely for canines and humans alike. The trail follows a stream that dogs relish, and cottonwood and willow trees offer cool solace from the hot Utah sun. After two miles of easy hiking, you'll find the glorious Morning Glory Bridge, a natural rock formation that spans 243 feet. This is a hiking-only trail, so you don't risk spooking horses or getting run over by mountain bikers here. Arches National park doesn't allow dogs, so this is a wonderful place to bring your canine companion when you're in the area.
4. Hunter Canyon Trail in Moab
Hunter Canyon Trail is a great choice for dog owners who like to camp and hike with their pup. Unlike Arches National Park, dogs are welcome at Hunter Canyon.  You can set up camp in one of the nine campsites on the lower part of the canyon, then take a hike up the canyon floor. A stream runs along and over the trail, and you can usually boulder hop over it while your dog runs and splashes through it. Hunter Canyon trail is a pretty easy 3.4 mile out-and-back trail that offers shade, water and beautiful canyon scenery.
5. Round Valley: Park City
Park City locals love Round Valley in the winter — it's a great place to cross-country ski — and dogs love it in any season for its wide-open space. Round Valley has over 30 trails, and your dog can run wild all over the entire valley. Keep an eye out for mountain bikers, but you won't run into many people thanks to the size of the valley and vast trail system. Sagebrush and Oak dominate the terrain, and there's not much shade or water, so come prepared on hot days.
6. Pa'rus Trail: Zion National Park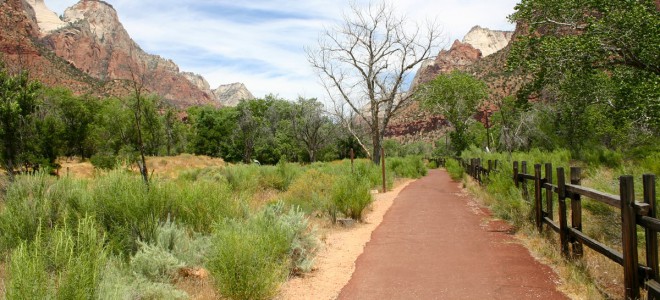 If you want to explore Zion National Park with your dog, you only have one option; fortunately, it's a great one! Pa'rus trail is the only trail in the park that allows dogs, and is an easy 3.5 mile stroll on a paved trail next to the gurgling Virgin River ("Pa-rus" is the Paiute word for "bubbling water").  You'll see loads of beautiful wildflowers, grazing mule deer and the stunning Zion scenery. Try hiking the Pa'rus trail during sunrise or sunset, or in the cooler months. The trail can get hot during summer days.
That sums up my list of the best dog-friendly hikes in Utah. Where are your favorite places to explore with your dog?